South Carolina Hall Of Fame: David Bancroft Johnson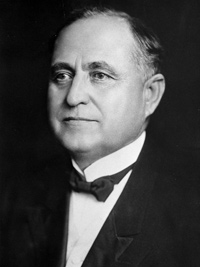 Born-(Died): 1856-1928
Profession: Educator, University President
Inducted: 2017
David Bancroft Johnson (was born in 1856 in the dormitory of La Grange Female College in Tennessee, where his father was president and founder. He was the founder and first president of Winthrop University (1886-1928), and is recognized today as one of South Carolina's great educators.

From the beginning, the school was an immediate success. By 1895, when the University moved to Rock Hill, SC, Winthrop was a firmly established educational institution, performing a vital role by providing the state with much needed teachers. From 1900 to 1928, Winthrop experienced a tremendous expansion and building program, becoming one of the largest women's colleges in the country. The buildings on the 40 odd acre tract of land that is Winthrop University today are monuments to Johnson's ambition and realized dreams.

Johnson died on December 26, 1928, and is buried in the chapel that served Winthrop's first class of students and now serves as his final resting place on the campus of Winthrop University.