South Carolina Hall Of Fame: Cale Yarborough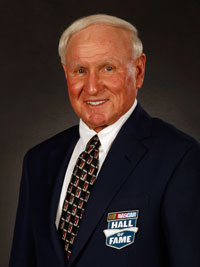 Born-(Died): 1939-
Profession: NASCAR Legend
Inducted: 2013
William Caleb Yarborough was born in 1939 in Timmonsville, S.C. He initially tried his hand as a turkey farmer and a running back on the Sumter, South Carolina Generals football team before he began racing in 1957 with a goal of becoming a NASCAR star. In 1965, Yarborough won once and finished in the top ten 34 times.

His string of three consecutive NASCAR Sprint Cup championships from 1976-78 was unprecedented and unmatched until 2008. During his three-year dominance, Yarborough won 28 races – nine in 1976, nine in 1977 and 10 in 1978. He was the second NASCAR driver to appear on the cover of Sports Illustrated.

Those three years made Yarborough's career, but he enjoyed success before and after. The fiery competitor was the series championship runner-up in 1973 and '74 and again in 1980. Yarborough totaled 83 victories in his 31-year career, ranking fifth all-time. His 69 poles rank third all-time and he won the Daytona 500 four times a mark that ranks second only to Richard Petty's seven.

In 1984, he became the first driver to qualify for the Daytona 500 with a top speed of more than 200 miles per hour. Yarborough is a three time National Motorsports Press Association Driver of the Year, and was inducted into the International Motorsports Hall of Fame in 1993. In 2012, he was inducted into the NASCAR Hall of Fame.