South Carolina Hall Of Fame: Matthew Perry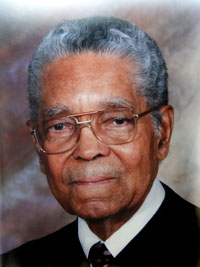 Born-(Died): 1921-2011
Profession: Civil Rights Activist/Judge
Inducted: 2007
Matthew J. Perry was born in Columbia in 1921. Perry served in the U.S. Army from 1942-1946 and received his bachelor and law degrees from S.C. State College (now S.C. State University). Perry opened a law practice in Spartanburg and while handling routine cases and began to devote time to civil rights work.

This work soon consumed his professional time and led to his appointment by the S.C. NAACP as its chief counsel in 1957. Perry strategically selected cases to attack the state's scheme of racial segregation. In Cummings vs. City of Charleston, Perry successfully challenged Charleston's public golf course segregation. Perry also prevailed in cases involving segregation of state parks, hospital waiting rooms, state colleges and universities, and public schools.

Perry's representation of civil rights marchers arrested at the State House led to the landmark U.S. Supreme Court decision in Edwards vs. South Carolina, considered by many scholars to be one of the most important First Amendment cases in modern American history. In 1976, President Gerald Ford nominated Perry on the recommendation of Sen. Strom Thurmond to the U.S. Court of Military Appeals, marking the first time a black man from the deep South had been nominated to the federal bench.

Three years later, President Jimmy Carter nominated Judge Perry as the U.S. District Judge for the District of South Carolina, where he served with distinction for more than 25 years. In 2004, the new U.S. Court House in Columbia was named in honor of Judge Perry.