South Carolina Hall Of Fame: Maj. Gen. Charles F. Bolden, Jr.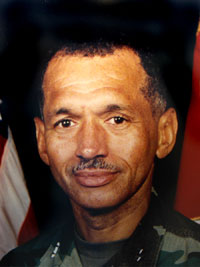 Born-(Died): 1946-
Profession: Astronaut
Inducted: 1999
A native of Columbia, General Bolden graduated from the United States Naval Academy in 1968 and became a naval aviator. In 1972 and 1973 he flew more than 100 combat missions in Southeast Asia. He earned a Master of Science degree from the University of Southern California in 1977. In 1980 he was selected by National Aeronautics and Space Administration (NASA) for training as an astronaut. In 1981 he was qualified as a shuttle pilot, subsequently flying four shuttle missions, including the 1990 mission that launched the Hubble telescope, and logging more than 690 hours in space. In 1998 General Bolden was promoted to major general and became the Deputy Commander, United States Forces, Japan. General Bolden was awarded numerous military and NASA decorations and holds honorary doctorates from several distinguished universities.