South Carolina Hall Of Fame: Ernest A. Finney, Jr.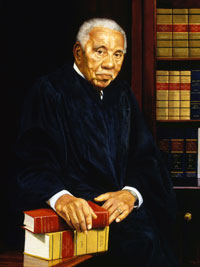 Born-(Died): 1931-
Profession: Attorney/Legislator/Jurist
Inducted: 2012
Born in 1931, Ernest A. Finney, Jr. was the first African-American Supreme Court Justice appointed to the South Carolina Supreme Court since the Reconstruction Era. He lives in Sumter, S.C., and is a member of Alpha Phi Alpha fraternity.

Finney was born in Smithfield, Va., and raised by his father, Dr. Ernest A. Finney, Sr. following his mother's death. He earned a BA degree from Claflin College and enrolled in South Carolina State College's School of Law. After graduation, he was unable to find work as a lawyer, so worked as a teacher. In 1960, he moved to Sumter and began his law practice.

In 1961, Finney represented the Friendship 9, a group of black college students arrested and charged while trying to desegregate McCrory's lunch counter in Rock Hill. In 1963, he served as chairman of the South Carolina Commission on Civil Rights. Finney was elected to the South Carolina House of Representatives in 1972, and appointed to the House Judiciary Committee. Finney was one of the founders of the Legislative Black Caucus, and holds many distinguished degrees and elected appointments.

In 1994, the general assembly elected Finney to the position of Chief Justice of the State Supreme Court, making him the first African-American Chief Justice of South Carolina since Reconstruction. In 1976, he won an election to become South Carolina's first black circuit judge. Finney retired from the state Supreme Court in 2000 and was named interim president of South Carolina State University in 2002.