South Carolina Hall Of Fame: Col. Charles M. Duke, Jr.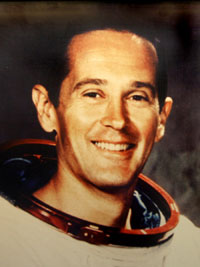 Born-(Died): 1935-
Profession: Astronaut
Inducted: 1973
On April 20, 1972, Colonel Duke joined the select body of Americans who walked on the surface of the moon. Colonel Duke was born in Charlotte, North Carolina, grew up and graduated from high school in Lancaster, South Carolina. He graduated from the United States Naval Academy in 1957 and was commissioned in the U. S. Air Force. In 1966 NASA selected him for the astronaut program. Colonel Duke was the lunar module pilot for Apollo 16 (April 16-27, 1972). Apollo 16 collected a record 210 pounds of lunar rock and soil samples that provided a wealth of new information for scientists. Colonel Duke gained the admiration of his fellow Americans for his courage and daring on behalf of his country.