South Carolina Hall Of Fame: Pat Conroy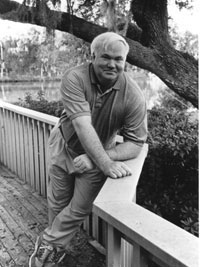 Born-(Died): 1945-2016
Profession: Acclaimed Author
Inducted: 2009
Born in Atlanta, Ga. in 1945, Donald Patrick "Pat" Conroy attended high school in Beaufort, S.C., and graduated from the Citadel with a degree in English and began teaching. His first book, "The Water Is Wide" (1972), highlights his experiences teaching.

He later wrote "The Great Santini" (1976), an autobiographical work later made into a movie starring Robert Duvall. The Citadel became the subject of his next novel, "The Lords of Discipline" (1980), which was also made into a film.

Conroy then wrote "The Prince of Tides" (1986), his most successful book. More than 5 million copies were printed, and the book was made into a film directed by Barbra Streisand, who starred opposite Nick Nolte. The film earned seven Academy Award nominations including best screenplay. Other works include: "Beach Music" (1995), "The Boo" (1970) and "My Losing Season" (2002).

Conroy's work has been recognized with numerous awards including the National Endowment for the Arts Award for Achievement in Education Lillian Smith Award for fiction from the Southern Regional Council Thomas Cooper Library Society Literary Award, University of South Carolina Governor's Award in the Humanities for Distinguished Achievement, South Carolina Humanities Council and the Order of the Palmetto.